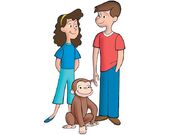 "All brain. No strain." -Steve
Steve & Betsy are 2 kids from George's neighborhood in the city who are brother & sister. They live with their Aunt Margaret & their dog, Charkie, who they are always chasing. Steve likes video games & is always "going for a record" of some kind. He's the older child of the pair, & is always getting ideas about how to solve a problem. He often tells George, "I'm in 5th grade. This has to work." In the episode Piñata Vision, their Aunt called him by his full name, Steven. Betsy's more responsible & caring, & is often pulling a red wagon. She's frequently annoyed at Steve, & has to fix his mistakes. She's in 3rd grade. Steve's voiced by Elizabeth Daily. Betsy's voiced by Grey DeLisle.
Appearance: Betsy
Betsy has long dark brown hair that goes down to her shoulders with a yellow headband on top. She usually wears a golden watch, a teal T-shirt with a teal collar, cyan pants, & teal flats.
Appearance: Steve
Steve has short light brown hair. He usually wears a bright red T-shirt with a white collar, dark blue pants, & brown loafers.
Trivia
Steve & Betsy also appear in the special "Curious George Goes to the Hospital", but they're unrelated to each other in the book.

In the same book, Betsy's related to Bill.

In an newer episode, Steve said he was in 3rd grade.

He's supposedly in the 5th grade.

Steve's 10 years old, & Besty's 8 years old.

Betsy usually acts older than her age, where for Steve, it's visa-versa.

In "Pinata Vision", Steve's full name's "Steven".
At their school, they've won 1st place in 1933, 1987 & 2005 in Sports.
Steve has made a total of 32 appearances.
Besty has made a total of 31 appearances.
Gallery